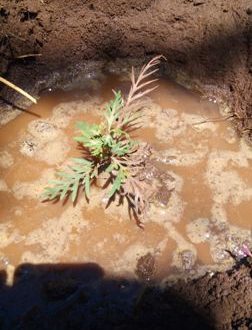 APRIL 2015 The reafforestation is going on !!
Very soon, the 4 springs will be all protected by a outer wall more or less large and the ponds for domestic and wild animals will be also finished.
Our sponsor is not forgotten by the communities which carve in the fresh cement the Man&Nature.'s initials.
The plantations are going on in the villages and around springs for this year, we reach at 1300 endemic plants species and this is just a beginning. The biggest challenge is to be able to protect maximum of goats, monkeys, from elephants, from drought, from deseases. Everyone is doing its best.