Objective : To facilitate the empowerment of women and increase their level of live.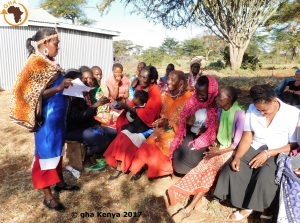 Object: To develop an agricultural cooperative for a group of maasai women.
Localization: Kenya ;Kajiado County; Loitokitok Sub County; Kuku Group ranch; Ole Polos Community
Duration : June 2017 / 2018 / 2019/ June 2020
Partners : The CBO ACC; the CBO Nabulaa
Description of activities : Cultivation of crops on 2 acres of land
Status: On going.
This project called "BOGA" (green vegetables ") aims at developing the empowerment of 25 women of  the CBO Nabulaa, increase their economic income by it and by securing their family food supply.
 First it consists at in putting in culture a 1 acre field equivalent to 4784 m2 (access to the water, the protection of the field, put in culture), so that the women can thanks to these cultures at the same time put aside a part to food safety,  and at the same time share the profits of the sale of cultivated food.
These profits will secondly allow to develop the project on a second already available  acre that is 1 hectare.(2 acres)
The project comes according to two main axes. It is a question at first of helping this group of women to reach a guarantee of safety and food diversification, but the exploitation and the resale of green vegetables will also be the opportunity for them to reach a certain financial autonomy.
The sustainability of the project rests on a united organization of the women within the group, a well established internal rules which guarantees the optimal functioning of the exploitation, as well as on technical trainings and of management lavished by qualified local actors. The profits from the first harvest and throughout the following ones will allow a financial participation then a financial autonomy of the exploitation
July 2017 Irrigation:
October / November 2017 plantations: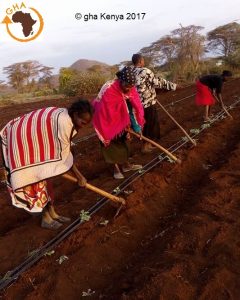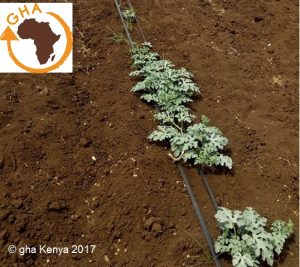 November / Décember 2017 First harvest: