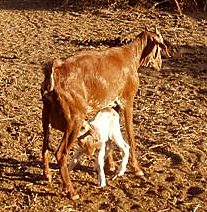 OCTOBER 2012 First birth !
We are delighted to announce the first female birth of a small kid among the first profitable families of the project " I give has goat " who began in Mars 2012 in the communities of Noomayianatt and Oloile, at the foot of Kilimanjaro.
Families mono parental with many orphans and without resource are offered one goat(tackle). When this one will give birth(rise) for the first time to a lamb female, this family will offer him(it) to another poor family and so on. (Microphone(microcomputing) adapted credit)
These families receive a training(formation) and are followed all first year long.
This project will be seen out(renewed) in other communities.