Objective: To help a family who take in charge of orphans'children.
Object : To provide equipment for a girls and boys' dormitory
Localization: Kenya, Amboseli region – Kimana Town
Duration : 2011/2012
Partners : Monicah's family
Description of activities : Food support and equipment.
Status of the project: Finished.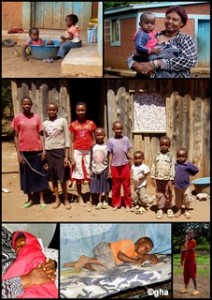 The Mama Monicah's family welcomed at home orphans following the drought in 2009.
An US association, helped this family, but as very often in Africa, after a certain time, this association don't give any news, so the support finished overnight.
We provided, in emergency, clothes, shoes and seeds for the family's market garden which was devastated by elephants during nights'visits.
The status of kids is not so clear, some of them are certainly children from distant family, orphans or not.
We are studying this situation as one goes alone, but the needs are nevertheless present.
Life 's conditions, particularly for the boys aren't easy.
They sleep on hard-pack ground in a wooden storage shed.
4 full staired-beds are today at the disposal of the children as well as, blankets in sufficient number.